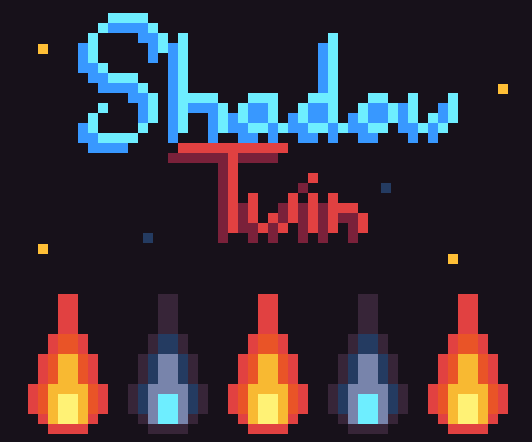 Shadow Twin
NOTE: The web version is the jam version. You can find the post-jam version by scrolling down
(MADE FOR GMTK GAME JAM 2021)
As a wizard, it's expected that you'll have to clear out the occaisional dungeon or two of ghosts, gouls, and any other lost souls that may be afoot. Luckily, when you've been trapped and need to find an exit ASAP, you always have your shadow to help you out.
You play as The Wizard and his Shadow.
Fire your way through rooms, avoid enemies, but be careful that your shadow doesn't land you in hot water....



Known issues (fixed in post jam version) ->
One of the characters might get stuck when moving from one room to another, this is not a very common bug, but can still happen, you can retry from the last checkpoint to continue playing if you encounter this bug.
The enemies might get stuck into walls and such, you will have to either wait for the enemy to move outside of the wall, or if it gets outside the room, you will have to quit to the main menu and start from the beginning.
Hitting the enemy during its death animation will keep hitting it without hurting the enemy, wait for the enemy's animation to be over and it should die without a problem


---------------------
Credits
Game by BEARCAT STUDIO
Code, Production -> Shinado Uzake
Sound, Music -> Max (Trundalassk)
Art Design, Animation-> Katherine Surkan, Asset Design -> Epicshaner
---------------------
| | |
| --- | --- |
| Status | Released |
| Platforms | Windows, macOS, HTML5 |
| Authors | Shinado, Trundalassk, insert_girl_name, Epicshaner |
| Genre | Adventure, Action, Puzzle |
| Tags | 2D, Action-Adventure, Game Maker's Toolkit Jam, Pixel Art, Top-Down, Top Down Adventure |